FairMate TurnStyle masters the world's largest trade fair for computer and video games – 56 turnstiles and more than 80 MobileEntrys in use – Approximately 345,000 visitors in total
Cologne, October 6, 2016 – gamescom, the world's largest event for computer and video games, took place from August 17 to 21 in the halls of Koelnmesse. Under the leitmotif "Heroes in New Dimensions", approximately 345,000 visitors from 97 countries, including 30,500 trade visitors, visited the event over the course of five days. The entire entrance management of gamescom was undertaken by FairMate and the FairMate TurnStyle turnstiles developed specifically for Koelnmesse.
To control entry to the trade fair, Koelnmesse also used more than 80 MobileEntrys. These mobile systems ensure a smooth visitor entrance process.
Koelnmesse has already been using the newly designed FairMate TurnStyle turnstiles since the EISENWARENMESSE - International Hardware Fair in March of this year. However, at gamescom all 56 turnstiles were in use concurrently for the first time at four different entrances. The waiting time was thus reduced to a minimum despite the very large number of visitors, ensuring smooth entry.
Werner Obermann, Head of Trade Fair Solutions at dimedis, had the following to say about FairMate at gamescom: "Following its debut at the International Hardware Fair 2016, our new turnstile FairMate TurnStyle has now also been deployed successfully at a large event such as gamescom. We are thrilled that the system enabled more than 345,000 visitors to enter the fair so efficiently. Through the use of the most up-to-date scanning technology combined with the new concept designed to allow visitors to enter the fair as quickly as possible, the turnstiles are ideally suited for efficiently controlling a rush of visitors of this magnitude with acceptable waiting times. We were thus able to achieve the fastest entry time in the history of FairMate."
Herbert Marner, who in his role as Managing Director of Koelnmesse is also responsible for technical processes, had the following to say about the use of FairMate: "Using FairMate, we have further enhanced the high quality of service at our events. The new turnstiles improve the system and make it significantly easier for our customers to enter the exhibition grounds. We are thus able to ensure quick and smooth entry even at events such as gamescom that attract large numbers of visitors."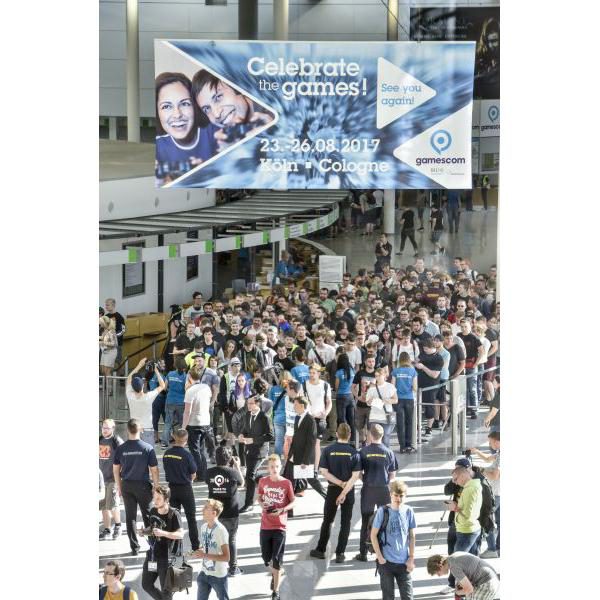 Rush of visitors at gamescom 2016. Koelnmesse used all 56 new turnstiles for the first time to guarantee smooth entry to the exhibition grounds. (Photo: Koelnmesse)


About dimedis
dimedis stands for digital media distribution. Founded 1996 in Cologne, the software company is specialized in trade fair- and digital signage solutions. FairMate is a visitor management solution and kompas a digital signage and wayfinding system. The customers are amongst others Messe Düsseldorf, Koelnmesse, Stockholmsmässan, Messe Stuttgart, Reed Exibitions Deutschland, Schalke 04, Borussia Dortmund, Bosch, snipes, a chain of supermarkets in France called "Casino" and shopping malls from ECE, SEC, mfi and Abu Dhabi Mall. More than 60 employees currently work for dimedis.
For more information please visit: www.dimedis.de
About FairMate

The FairMate family of products offers intelligent customer relationsship and visitor management for trade fairs, conventions, events and exhibitions of all sizes. The FairMate range of products revolves around a central database and includes an online shop, a mobile shop, Passbook ticket support and tools for data analysis as well as cash registers, self-service counters and visitor admission terminals on site. FairMate covers every aspect of visitor management: Online ticket sales, fast admission on site and comprehensive statistical data at any given time.
FairMate is used successfully in several trade fairs all over the world. Customers like Stockholmsmässan, Reed Exhibitions Germany, Messe Düsseldorf, Messe Stuttgart, Westfalenhallen Dortmund and Koelnmesse rely on FairMate.
For more information please visit: » www.fairmate.eu